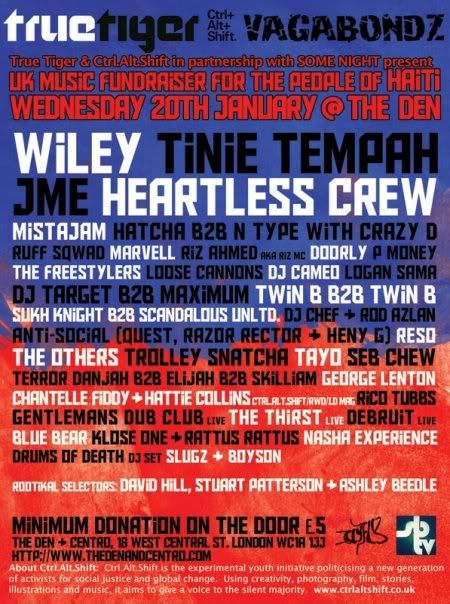 To help raise money for those in Haiti,
Ctrl.Alt.Shift
have teamed up with SOME night &
True Tiger
to put on this insane charity event tomorrow night at The Den.
If you're in London, this is NOT to be missed! Minimum donation is £5, whilst £20 will get you a queue jump. With a line up like this, it's well worth paying the extra. Not only will it be a roadblock, but it's all for a good cause.
There will also be a raffle on the night. Full prize list can be seen
here
Line up:
Wiley (Island Records)
Tinie Tempah (Parlaphone Records)
Sway (Konvict Music)
MistaJam (Radio1/ 1Xtra)
Nihal (Radio1)
JME (Boy Better Know)
Heartless Crew
Shy FX b2b Breakage with Donaeo
Hatcha b2b N Type with Crazy D (Kiss100)
Mystery Jets (DJ Set)
MJ Cole
Ruff Sqwad
Marvell
Riz Ahmed aka Riz MC
Mz Bratt
Brookes Brothers & Dynamite MC
DJ Cameo (1Xtra)
Loose Cannons (Kiss100)
Doorly
The Freestylers
Logan Sama (Kiss) with P Money
DJ Target (1Xtra) b2b Maximum (Boy Better Know)
B Live
Twin B (1Xtra) b2b Twin B (Island Records)
Alix Perez
Blame
Sukh Knight b2b Scandalous Unltd. (True Tiger)
DJ Chef (Rinse.FM) & Rod Azlan (Dub Police)
Anti-Social (Quest, Razor Rector & Gangsta Boogie's Heny G)
Reso
The Others (Dub Police)
Trolley Snatcha (Dub Police) & G Double
Tomb Crew
Terror Danjah b2b Elijah b2b Skilliam
Tayo
Seb Chew (YoYo's)
DJ Chuckie
George Lenton
Rico Tubbs
Gentlemans Dub Club - LIVE
The Thirst - LIVE
Debruit - LIVE
Blue Bear (True Tiger)
Chantelle Fiddy & Hattie Collins (Ctrl.Alt.Shift/RWD/I.D Mag)
Klose One & Rattus Rattus (Urban Nerds)
Nasha Experience
Drums Of Death (DJ Set)
Rootikal selectors: David Hill, Stuart Patterson & Ashley Beedle
Zero T b2b Kharnage & Stamina (Drum & Bass Arena)
K (Sly Fly Records)
Slugz b2b Boyson