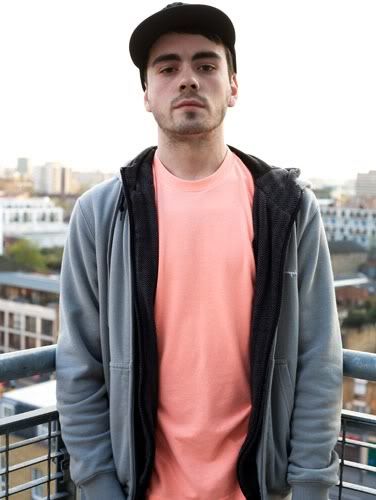 Following on from Marcus Nasty, the latest DJ to undertake mixtape duties on the next
Rinse
mix CD is none other than one of my favourite selectors at the moment,
Oneman
.
Those expecting an epic selection of Old UK Garage bangers, however, will be disappointed.
Speaking to
FACT Magazine
, he says, "Yeah the opening tune on the mix is a bit of a statement from me. You gotta move forward though, this CD is a selection of what I like now. I don't wanna get stuck as that guy that plays garage, I'm moving on."
From the look of the tracklisting below, this is going to be a heavy release.
Oneman's
Rinse: 11
CD should be in stores soon.
Tracklisting:
01. Double Helix – 96 Flavas (No More Games)
02. Ramadanman – Mir
03. Martin Kemp – After The Night
04. The Detatchments – Circles [Martyn's Round & Round Mix]
05. Jazzanova – I Can See [Doc Daneeka Dub-Bump Mix]
06. Kode 9 – 2 Far Gone
07. Martyn – Mega Drive Generation
08. Bassjackers & Apster – Klambu
09. Deadboy – U Cheated
10. Zomby – Rumours and Revolutions
11. Efdemin – Acid Bells [Martyn's Bittersweet Mix]
12. Geeneus & Ms Dynamite – Get Low
13. Smoove Kriminal – Represent
14. Sticky – Jack It Up feat. Marvin Brown
15. R1 Ryders – Rubberband VIP
16. SouLTonic Sound System – The Flying Saucer
17. Bok Bok – Citizens Dub feat. Bubbz
18. Hem feat. Terrible Shock – On a Mission [Shortstuff Remix]
19. A4C – Untitled Mambo [Boogaloo Crew Remix]
20. Joy Orbison – Hyph Mngo
21. Breakage feat. Newham Generals & David Rodigan – Hard
22. Desto – Disappearing, Reappearing ink
23. Joker – Digidesign
24. 2000F & J Kamata – You Don't Know What Love Is
25. Starkey – Rain City
26. Headhunter – Prototype [Modeselektor's Broken Handbrake Remix]
27. Crystal Fighters – I Love London [Brackles Remix]
BONUS!
In the run up to the next FWD>> + Rinse event at Matter in London on 29th January, the kind folks at Rinse have decided to give away some more exclusive tracks.
The first is N–Type's mix of MA1 & Sophia's "I'm Right Here". Click
here
to grab it!