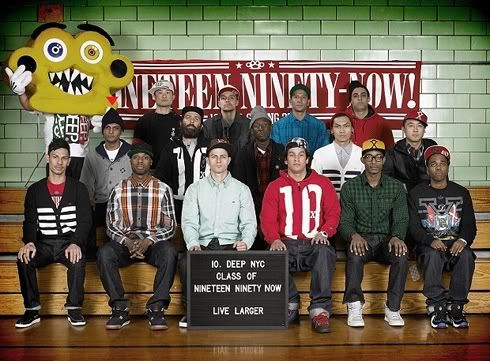 10 Deep
have been at the forefront of urban clothing/streetwear for a number of years now. For this year's Spring Collection, they've decided to take it back to the 90's with their choice of garments and designs...
The blurb:
"We're not ones to remain stagnant, and for our Spring 2009 collection, we've taken cues from a time when street style was based on adopting the preppy sportswear brands of the penny loafer generation and injecting it with a large dose of swagger."
Entitled "Nineteen Ninety-Now!", the Deep have wide created a range of garments such as button-ups, modified fleece bodies, cardigans, and outerwear with "graphic representations of an era where social consciousness and a sense of personal style were king".
A great concept for the photoshoot too: A full-colour, yearbook-style photo, complete with a class photo in the gym.
Check out the lookbook
here