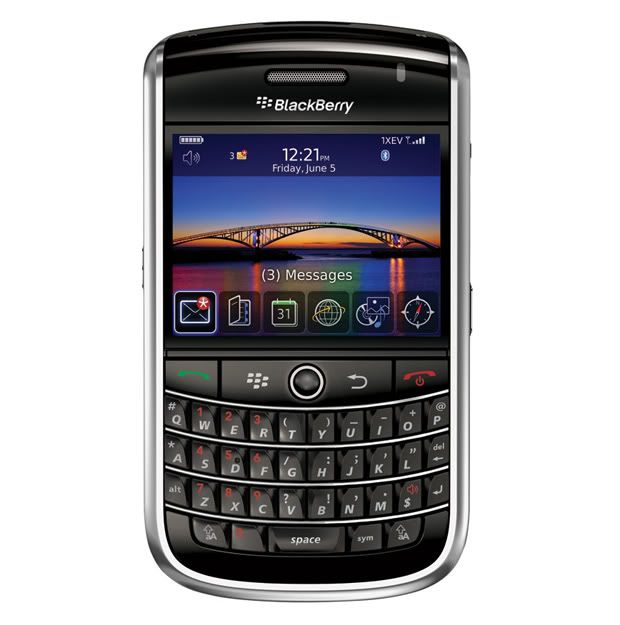 I love my Blackberry Bold, but I can see myself trading it in for this beast...However...I'm still toying with the idea of maybe getting an iPhone 3Gs, since they've recently sorted out the whole copy & paste issue, plus the web browsing is dope.
Although I'm highly addicted to Blackberry Messenger! (that sealed the deal for me when I first got one back in '07).
One of the main additions of the Blackberry Tour is the display, which at a 480 x 360 resolution at 245 ppi delivers the highest resolution available on any BlackBerry.
Other key features include:
* 3.2 MP camera with flash, variable zoom, image stabilization, autofocus and video recording(i)
* Full HTML web browser, including support for streaming audio and video (RTSP)
* Advanced media player for videos, pictures and music, a 3.5 mm stereo headset jack and support for the Bluetooth(R) Stereo Audio Profile (A2DP/AVCRP)
* 256MB Flash memory
* Expandable memory via hot swappable microSD/SDHC memory card slot, supporting cards of up to 16 GB today and expected to support next generation 32GB cards when available
* Built-in GPS with support for geotagging, BlackBerry(R) Maps and other location based applications and services
* BlackBerry(R) Media Sync allows customers to quickly and easily synch music from iTunes(R) and Windows Media Player with the smartphone(ii)
* Premium phone features including voice activated dialing, enhanced background noise cancellation, a low-distortion speakerphone, and Bluetooth (2.0) support for hands-free use with headsets, car kits, stereo headsets and other Bluetooth peripherals
* Preloaded DataViz(R) Documents to Go(R), allowing users to edit Microsoft(R) Word, Excel and PowerPoint files directly on the handset
* Easy mobile access to Facebook(R), MySpace and Flickr(R), as well as popular instant messaging services including BlackBerry(R) Messenger, Yahoo!(R) IM, AIM(R), Google Talk and Windows Live Messenger(TM)
* Support for BlackBerry App World(TM), featuring a broad and growing catalog of third-party mobile applications developed specifically for BlackBerry smartphones. Categories include travel, productivity, entertainment, games, social networking & sharing, news & weather, and more
* BlackBerry(R) Internet Service allows access to up to 10 supported personal and corporate email accounts, including most popular ISP email accounts
* BlackBerry(R) Enterprise Server provides advanced security and IT administration features within IBM(R) Lotus(R) Domino(R), Microsoft(R) Exchange and Novell(R) GroupWise(R) environments
* Removable and rechargeable 1400 mAhr battery for 5 hours of talk time and 14 days of standby time
Available from this summer in the US, with further releases worldwide.
Via
Hypebeast